On Saturday, October 7, 2023, the seventh world championship in playing escape room games will be held in Wroclaw, Poland!
Do you remember the championship in playing escape room games, where the team from Slovenia won? This championship has been gone for a long time, but it is the seventh year of ER CHAMP, which we have so far not known enough about in Slovenia, because among the 1,692 players in 532 teams, we did not find any Slovenian participants. But we will change that! We are glad that the members of the GIZ ER.SI escape room association have been invited as guests to the finale of the event, from where we will of course report and invite you to participate next year. Slovenians are excellent players of escape room games and it's time for new victories!
How did ER CHAMP 2023 go?
The elimination games took place on June 24, 2023 online. Story: Players have landed on the surface of an unknown, strange planet covered in menacing, fungus-like organisms. The goal: to do everything to return to Earth. However, it was not an easy task! Players had to solve puzzles hidden by the inhabitants of an alien planet. Unfortunately, not everyone returned home…
ER CHAMP 2023 in numbers
1692 players in 532 teams from 26 countries around the world
5,642,125 actions were taken during the 4 hour game
the 10 fastest teams made it to the finals this year. Team results can be found here:
FINALE THIS FALL – LIVE, IN POLAND
ER Champ Final Replay Live! The top 10 teams will compete in a purpose-built escape room on October 7 in Wrocław.
AWARDS
ZER Champ 2023 winners will receive a trophy and a set of Steam Decks – one for each team member. And of course they will be crowned with eternal glory and honor!
THE ORGANIZERS
Lock.me is the largest escape room booking and rating portal, featuring nearly 4,000 escape rooms in 13 European countries and supporting 7 languages. (For example, there are 1000s of escape games in Poland and on Lock.me you can easily find the ones in English, choose the best rated ones and even make a reservation – all in one place). You can also find other projects under the Lockme brand, such as the world-famous tabletop escape games "Escape Tales" and the information and entertainment website "Escape Buzz".
FOLLOW THE CHAMPIONSHIP ONLINE
You can also follow the championship live on Youtube
– starts on 7 October 2023 at 11:30 (CET).  
www.youtube.com/@lockmeofficial
Follow us and stay informed, and we will certainly send a Slovenian team to ER CHAMP next year, right?
And the winner is ….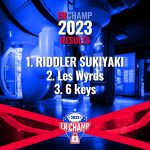 SEE THE REPORT FROM EVENT: >>Here >>